Making the perfect ads, that the audience will connect with and respond enthusiastically is one really big challenge that all the advertisers and the companies need to overcome. However, unfortunately, there is neither a shortcut nor some magical way to know that what will work and what not. But no, you don't need to get disheartened as A/B testing on Facebook Ads is nothing less than a blessing in disguise which helps you play the game of advertising industry successfully.
If explained in basic terms, then you can understand that A/B testing on Facebook is a tool which is used to experiment with different types of campaign elements, ultimately to find our which one of them works the best for you. Moreover, the best part about A/B testing is that instead of having long discussions on what suits the best, the marketers can easily set up multi-variable tests and see which ad version is actually working in their favor.
If, A/B split test on Facebook Ads is making you curious and you want to know about it so that later you can try it yourself, then you have reached the perfect place. Continue reading to know about the world of A/B Split Test on Facebook Ads!
What is A/B Split Testing?
A/B testing or split testing as it is commonly known is an amazing trick to find out which of the campaigning elements work best for your target audience. Split testing helps you select out the best ad headlines, images, body copy, call to actions or even a combination of all these options which will make your ad popular in the section of your target audience.
Moreover, A/B split testing also allows you to experiment with ad placements as well as Facebook audience, so that you can identify not only your perfect target audience but also the best placement for your ads with which you can easily reach your potential audience. In most circumstances, A/B tests are published approximately for a couple of weeks and once the experiment is completed, a conclusion is made which will decide whether one option out – performed the other options. To ensure that receive statistical results, you can use a statistically significant calculator.
So, you no longer need to worry to predict what kind of ad design will work better for your demographic audience and make them more likely to buy your product because now you can do a quick test of multiple ad's designs and target audiences to spot out the most effective ones.  Doing an A/B split test not only helps you to uncover the best performing solutions for your ads but also helps you to optimally use your ad budgets.
5 Rules to Keep in Mind While A/B Split Testing Facebook Ads
Although there are no strict rules or regulations for split testing your ads but if you want to save more time as well as money, then you need to be smarter. All types of split testing give basic results, but if you are looking for more statistically relevant results which can work successfully through multiple campaigns, then your campaign needs to be special too.
Otherwise, if you go on testing your ads without much of planning then there is a high possibility that you will end being caught up in different kind of testing ideas and will forget about the important things like professional campaign setup and measurement practices.
But you need not stress over finding the tips and tricks to create a smart strategy because we have already done the work for you. We have listed down five rules which can significantly improve your results for the better, if followed properly and religiously. So, now without any further delay let us now focus on these five golden rules which you must keep in mind for future ad campaigns for the best results!
A/B Split Testing Rule #1: Take Things One by One
When you begin the split testing procedure, though it might feel quite tempting to start testing almost everything at once, but later when you sit back and revalue your decision then surely you will regret it. Think about it in this way, the less ad variables you will have to test, the quicker you will get your relevant test results.
So, the bottom line is that no matter how tempting it appears to scatter and start testing everything, you must not fall for these temptations. Your only mantra must be to 'Test one variable at a time!'. Another added advantage with testing only a single ad variable per experiment, is that not only would it become easier for you to track the outcome but can also evaluate the results properly without much hassle.
A/B Split Testing Rule #2: Choose the Right Campaign Structure
While A/B split testing your ads, which Facebook campaign structure you choose also plays an important role. Hence, it is extremely essential that you know all about these campaign structures beforehand, so that you need not repent upon your decision later. So, lets start from the first things.
When you go for testing multiple Facebook ad designs or the other in – ad elements, then you get two options for structuring your A/B testing campaigns which are a single ad set and multiple single – variation ad sets. For choosing the right Facebook campaign structure, you need to know at least the basic information about these two.
A single ad set- In this campaigning structure, you get all the ad variations that you have under a single ad set. For a simpler understanding of the structure, you must have a look at the following image.
Multiple single – variation ad sets- In this campaigning structure, as the name suggests there are multiple ad variations and each of the ad variation in placed under a separate ad set. Have a look at the image, to understand this campaigning structure better.
#Tip: In our opinion, out of the two types of Facebook campaigning structures available, we prefer the second one. This is because, if you go with the first campaigning structure in which you place all the tested ad variations under a single set, Facebook will automatically start auto optimizing your ads, which will ultimately lead to you not getting relevant testing results.
However, if you go with the second campaigning structure, all of your ad variations will be placed in separate ad sheets which will keep the things organised and help you get proper results as well.
A/B Split Testing Rule #3: Make Sure that you have Valid A/B Test Results
There is no doubt that split test has been a great help for marketers to compare different ad designs to shortlist the best out of the lot but the major issue that people face is that they are unable to decide that which is the best time to analyse their split test results and thus conclude their experiment.
It is quite important for the users to ensure that their A/B test results are valid. For ensuring the validity of the results you need to have sufficient amounts of results from which you can conclude the experiment.
However, A/B significance test is an amazing feature which by giving you its valuable insights can thus help you to determine that you have valid results.
A/B Split Testing Rule #4: Set a Sufficient Budget
If you are using such an amazing and helpful feature, it is quite obvious that there comes attached to it some cost. However, there is no need to panic hearing about the associated cost because it is not necessary that you will incur loss. Rather, if you know what you are doing and have a proper strategy in hand then there are high chances that you can get good profits too.
You must understand the basic logic behind the cost related to A/B Split Testing is that the more ad variations that you will test, the more ad impressions and conversions you will require for statistically significant results. So, before forming any budget range you must have an estimate idea about what it will cost to run a successful Facebook ad test.
For valid A/B test results, you require at least 100 conversions per each ad variation. Say, if your cost per conversion is $2.50 and you test 4 different ad variations, then your testing budget should be around $1, 000 ($2.5 * 4 *100). Also, if your split test variation results are overpowering others by quite a margin, then you can even conclude your experiment a bit sooner, like at around 50 conversions per each variation.
Hence, the bottom line that you need to remember is that do not overdo it. It is really pointless to create hundreds of experiments in a single campaign unless you have a very high budget as well as loads of time.
#Tip: It is advisable that you have a reasonable budget, neither too high nor too low, and then begin with micro experiments in which you test just a few important elements.
A/B Split Testing Rule #5: Set Out Your Facebook Ad Tests Preferences
Though A/B Split Testing is a great help, but you still must not rely on it completely. What we mean is that you must also use your intuition and creativity. For example, when you are searching for Facebook A/B testing ideas, you should firstly think yourself that which ad element could have the highest effect on the audience and thus ensure a high click through and conversion rates.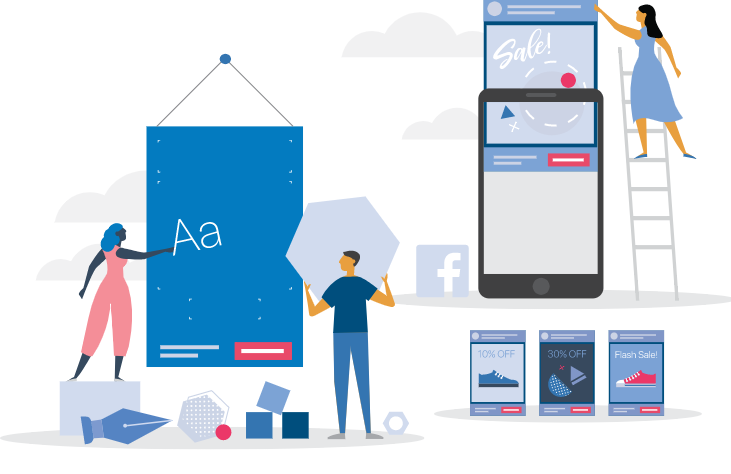 No matter how much you want to test and verify each and every ad element, you should think and work practically while testing ads. You need to remember that while A/B Split testing your ads your testing capacity will be limited by both resources as well as time. Therefore, you need to be alert and work accordingly to save your time as well as money.
#Tip: To organize your work and properly lay out your preferences, you can even set up a prioritization table. This table will later help you decide which ad element you are doubtful about and which you are going to test first.
Conclusion:
A/B Split Testing is one amazing feature which can do multiple wonders if you do it in a right and proper way. However, if you have been unaware about the concept before reading the article, we hope that by now you would have gathered at least some knowledge on how to A/B Split Test Facebook Ads the right way.
Although, if you are confused about which elements must you A/B test, then we have shortlisted some of them such as titles, landing page, countries, Facebook ad goals, genders, relationship status, Mobile OS, precise interests, age ranges and genders. However, at the end you must go what your goals demand as well as what your gut feeling says. Any which ways we wish you loads of luck with your next campaign!