In today's world, asking a question like whether you are on social media platforms like Instagram and Facebook to anyone is no longer a question-answer thing, rather it has turned into a rhetoric question where almost everyone will answer with a yes. Launched in 2010 as a simple photo-sharing application, Instagram almost instantly gained popularity and in 2012 was acquired by Facebook.
This move not only gave Instagram a secure position in the social media leadership board but similar to Facebook, Instagram was also introduced to the marketing world. With over 1 billion monthly active users, Instagram and Facebook have surely evolved into one of the most powerful marketing tools in today's world. However, with the world being taken over by tons of new advertisements every day, consumers have somehow turned immune to their content which is why the average banner ad click-through ratio has dropped down to 0.1%.
Now, if you are thinking of participating in this mad race of competition of who will produce more advertisements, then general advice for you would be to immediately drop this idea. Remember that for a successful future, quality is more important than quantity.
Hence, your strategy for beating this grim ratio number should not be by creating more ads rather you should overpower these declining numbers by creating better ads which are more relevant and better targeted. Are you curious as to how do you form this strategy? Are you wondering what actually are Facebook and Instagram Dynamic Ads? Are you looking for a step by step guide for creating these Dynamic Product Ads?
If your answer to these questions is yes, then congratulations because you have arrived at the right place. Here, we are not going to explain the wonderful advertising capabilities on Facebook and Instagram platforms but will also help you to try them on your own. So, are you ready to explore the world of Facebook and Instagram Dynamic Ads?
What are Facebook Dynamic Ads?
Starting with the basic question that might be in the minds of many who are new to the field of advertising, Facebook Dynamic ads look quite similar to the other ads which you might see on platforms like Instagram, Messenger, Audience Network, etc. However, the difference between these ads and dynamic ads is that instead of creating an ad for each and every product, you create an ad template which automatically uses details and images for things that you would like to advertise from your data feed.
Moreover, dynamic ads use your Facebook pixel or SDK to show your ads to those people who have previously shown interest in your business or services by taking actions you care about on your website. Sometimes it happens that we have seen something a lot but don't know it by name, the same would be the case with dynamic ads. You probably would have seen plenty of Facebook dynamic ads in your news feed but may not know them by name.
However, here is a quick recap for you from eBay. At a time, there are thousands and millions of products that are listed on their site but they can advertise those exact products which the people would have recently viewed.
5 Steps to Set Up Facebook Dynamic Product Ads:
Now that we have understood the basic information about the dynamic product ads on Facebook, it is time that we move to the next stage. Let us have a look at the step by step guide on how to successfully set up these ads to get the best results, that too in just 5 steps.
Step 1: Install Facebook pixel on your Website OR Use Facebook SDK for Mobile Apps
As your first step, you need to have Facebook pixel or SDK on your device whether it be a laptop or mobile. This is because once you get started with pixels, then most major shopping carts can then automatically populate the pixel events. The best part about pixel events is that it allows you to create a highly relevant audience by showing your ads to those people who have viewed your product but have not purchased it. The major pixel events which are required for dynamic product ads are:
View Content: This one goes on when a person views a particular product page.
Add to Cart: The next step down the sales funnel after viewing a particular product, is when the product is added to the cart.
Purchase: This is the final step in the checkout funnel.
Step 2: Create your Product Catalog
Under this step, you need to link the product catalog to your eCommerce store on Facebook account. This will help you to plug the catalog in the ads.
Step 3: Divide the Products into Product Sets
When you plan for a general retargeting of people who have already viewed some of your products in the past, then it is extremely useful if you create product sets that contain a variety of different kinds of products. For example, let us imagine Apple creating dynamic product ads for cold traffic. Then obviously it would make more sense if they create a product set containing their latest collection of best products like iPhones, iPads, MacBooks, etc. instead of filling their ads with all kinds of products including just several varieties of dongles. You may also create sets of properly curated products for broad targeting, cross-selling or up-selling.
Step 4: Choose Your Audience
While deciding which audience to use, you basically come across four main options to consider and select from.
Broad audience: This audience consists of people who have not viewed your products yet and for them, Facebook optimizes over time which products to display based on the results.
Viewed but not purchased: This audience includes those people who have viewed the content or have even added the product to the cart but still did not buy the product. You can show relevant ads to this audience who have interacted with your website but yet did not make a purchase.
Up-Sell: This setting means that you show a product set to users who have viewed a different product set. For example, if some people have viewed individual items for sale then you must retarget them by showing them discounted bundles.
Cross-Sell: For this set, you can maximize your customers lifetime value by showing them those products which might be relevant to them. For example, if you have a customer who has bought a cell phone from your website them in future you can show them ads for a charger, mobile case or a screen protector which fits the phone model which they bought before.
Step 5: Create Your Ad
Though it may feel like the most important and difficult part of the whole lot to you, when understood properly you will realize that it is definitely the easiest step. This is because most of the information required is populated from the product catalog easily. You can use 'dynamic placeholders' in the ad text where the brand or product name appears, the price or the item description can also be pulled in from the product catalog and then showed in the ad.
What are Instagram Dynamic Ads?
The dynamic ads feature of Facebook was expanded in 2016 to Instagram as well to broaden the placement possibilities for its revolutionary retargeting ad format. Hence, it has now become quite easy for the advertisers to successfully promote their products on the Instagram platform depending on the people's browsing behavior as well as on their previous in shop interactions.
Moreover, the best part is that since dynamic ads are fueled by the product data in one's Facebook Catalog, you need to create just a single ad template. If you are planning to try dynamic ads on Instagram, then you must know that the platform at the moment offers two types of placements which are-
Single Image Ad: The most used and traditional form of Instagram ad is the Single Image Ad. Placed in the organic posts of the user's news feed, these ads can take either the landscape or square form. The only clue through which you can differentiate them as ads is by the 'Sponsored' label on the top right and the CTA placed below the image of the ad.
#Tip: For your ad to run successfully, make sure that follow the following rules and requirements.
Carousel Ad: This format is quite similar to the Carousel format for Facebook dynamic ads. If you are not familiar with this format on either of the platforms, then you must know that Instagram Carousel Ads allows you to promote around 10 photos of the product within a single ad frame. More or less, it is just like Single Image Ad in appearance, but with the additional advantage of swiping through to view additional images. These ads also appear in the organic posts of a user's feed.
#Tip: For getting the technical requirements of the Carousel Ads in Instagram right, you must follow the following list of specifications.
Steps to Set Up Dynamic Instagram Ads
The steps for getting started with the Instagram Dynamic Ads is more or less included in the set up of Facebook Dynamic Ads. However, the general main steps that you need to keep in mind while considering ads on the Instagram platform are:
Install Pixel: Like the Facebook Dynamic Ads, you need to set up the Facebook Tracking Pixel on your website for getting started with dynamic ads on Instagram platform.
Prepare your high – quality product data feed: In order to make sure that your dynamic ad stands out from the rest of the crowd, you must provide a top – notch Facebook Catalog. By top – notch we mean that your Facebook Catalog not only should be in line with Facebook's rules and requirements but must also be as informative as possible. The more accurate information you would provide, more are the chances that your ad will be targeted to the right buyer and at the right time.
If you are even a bit confused about the steps to follow for Instagram dynamic ads, then a tip for you is that you can easily follow the Facebook Dynamic ads setup including the steps and the rest of the configuration details that must be followed before campaign launch.
Measure Performance: You can measure your performance with the help of Facebook also. It helps you give Instagram specific performance insights, thus giving you the ability to evaluate the value of each of the ad placement.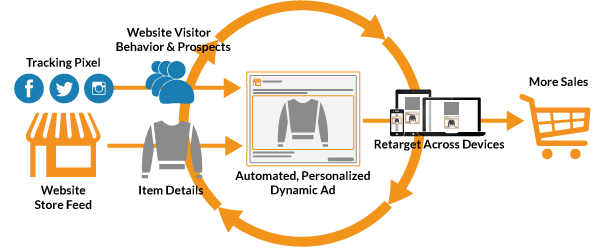 Conclusion:
These days advertising industry has flourished a lot and hence made it both easier for the marketers to advertise their product as well as has increased the competition as well. Now while setting up carousel dynamic ads on Instagram, you also get an option to add a card to the beginning or end of the carousel containing additional information. The options between which you can choose are – a fixed video, image or slideshow in the beginning, the profile picture of your page at the end and a map card showing your company's nearest physical location. We hope the article proved helpful for you!