Nurturing a business and investing your time and effort to take it to new heights is not a small challenge. It requires determination, hard work, and a smart strategy. If you are struggling to drive in traffic and conversions to your website through the help of Facebook ads these days and things are working too slow for your liking, then don't lose hope because you are not alone.
If you are not getting the desired results, then probably a major possibility can be that you are showing your ads to the wrong people or a wrong set of audience. In the past few years, Facebook has added on several new advertising features which can work wonders for you if used carefully. The most common technique which people use for targeting Facebook ads is to create a custom audience. Though this is also an amazing technique which seems to work in a lot of circumstances, still there are other different ways through which you can excel.
For being at the top, you obviously need to understand the basic concepts and then think out of the box strategies which makes you different from others. One of the most important steps for a successful business is that you should keep bringing in new people into the sales funnel by using prospecting ads. In other words, there is a set of people including our Facebook fans, leads and customers who already engage with us, they are known as warm traffic.
Though undeniably, warm traffic is important for the business but similarly cold traffic which refers to an audience consisting of people who haven't engaged with us in the past, is also as much important for a successful business.
One of the best methods through which you can select a cold audience to target is by using Facebook Look Alike Audiences. Creating Facebook Look Alike Audiences can help you achieve stellar results in the future. However, before getting into further details, let us first discuss what exactly does the term Facebook Look Alike Audiences mean!
What exactly is Facebook Look Alike Audiences?
The actual definition of Facebook Lookalike Audiences is that it is a way to reach new people who are likely to be interested in your business because they are similar to your best existing customers. Mostly, while considering our target audience we tend to think of certain factors and then keep working on that only. However, sometimes there is a certain section of people who might like our product or services but we neglect them, hence losing a lot of potential customers. In simpler words, you can even understand Facebook's Look-Alike Audiences as an audience created by Facebook's algorithm to find out unexpected commonalities.
What happens is that you give Facebook a source audience, also known as seed audience and Ads Manager will then use all the available data to spot out common themes. After Ads Manager has sorted out all these common themes, from this it will create an audience consisting of people who have very similar characteristics. The best part of creating Look Alike Audiences is that while creating it you can even choose a percentage so that a 1% lookalike audience will be the 1% of Facebook users of the country who have a close match with the source audience.
In other words, this means that you have automatically eliminated away the 99% of the users who are the least good match with the source audience, thus instantly giving you a higher and better-performing audience to target.
#Did You Know?
If you use Facebook Look Alike Audiences, then it will automatically and dynamically update within every 3 to 7 days assuming that the source audience on which it is based is also dynamically updating, like audience based on pixel events. This eventually helps in saving a lot of time and efforts because now you need not create new audiences for every new campaign that you launch.
What are the Benefits of Facebook Look Alike Audiences?
As earlier said, people have often indulged in Facebook Custom Audiences and hence know about how it works as well as its numerous benefits but there are quite a few people only have even minutest of the idea regarding Facebook Look Alike Audiences. However, on closely looking and compare both kinds of Audiences, one can see that Facebook Look Alike Audiences have a bunch of advantages over custom audiences.
For example, it has been noticed that when a person targets look alike audiences, then there is a high probability of the audience buying from their page. Moreover, there is any day the advantage with lookalike audiences, that you tend to find an audience consisting of people who are a good match with your current customers, which ultimately leads to a boost in your sales. Also, since you can now target the secret, hidden and unexpected commonalities amidst your audience, you can also customize your user's experience.
It has also been noticed that on social media, personalizing a campaign eventually leads to approximately 89% lift in conversion rates. If this is something so profitable, then why wait, you must start now! Once you start using this, you will notice that the people you target are also quite likely to subscribe to your email list. In fact, you can also create an audience similar to your current list of customers. This kind of targeting has direct results which will obviously help in improving your campaign.
Another added advantage of Look-Alike Audience that has been noticed is that in comparison to other audiences, there is a 90% greater chance in Look-Alike audience, that on an average you will experience a higher click-through rate. Last but not the least, out of the lot the best benefit of Look-Alike Audiences is that you get to create a virtuous cycle As you start building a larger audience through your ads, the better Facebook becomes at predicting which customer is more likely to subscribe, buy and convert from your page.
Also, the more your audience grows, the greater becomes your ability to build a bigger audience. Now, as we have become more familiar with concepts like what exactly is Facebook Look Alike Audience and what are its benefits, let us now move to the next stage which will further throw light on how you can create Facebook Look Alike Audiences.
How to Create Facebook Look Alike Audiences?
If you were thinking that creating Facebook Look Alike Audience would have been something as difficult as rocket science, then we have good news for you. Another thing to add in the list of advantages of Look-Alike Audience is that they are extremely quick and easy to create. So, now without any further delay, let us begin with the process of creating this amazing audience.
Step 1: Firstly, you have to go to the Audiences section of the Business Manager. Now click on the blue color Create Audience button and select the option with the name Look Alike Audience.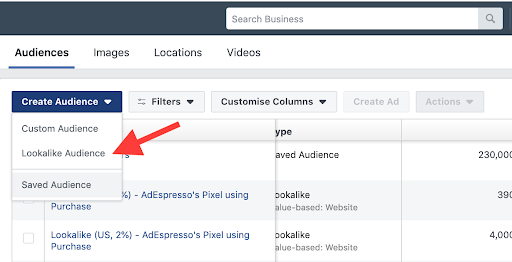 Step 2: As soon as you click the Look-Alike Audience option, another window with the name create a Look-Alike Audience will pop up. In this window, you will see several heads like source audience, percentage, the country and soon. You just have to fill in the required details according to your need and then again click on the blue-colored button with the name Create Audience.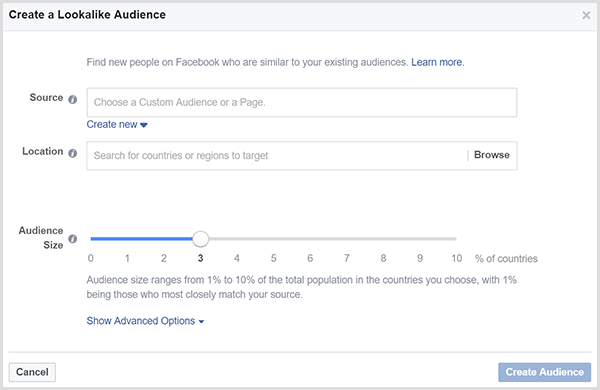 Congratulations, because as you clicked the Create Audience button, you created a high – quality audience in even less than a minute or two.
What should be done for making Source Audiences?
While creating Source Audiences, one thing that you must remember is that quality is more important than quantity. This is because the algorithm you are working in is looking to find similarities, so if you have enough people in your source audiences then you might be able to segment them down to find a common theme. Therefore, though the minimum size for a source audience is as less as 100 one must keep in mind that such a small amount does not give Facebook much data to work with.
Hence, it is recommended that you must include people approximately between 1,000 and 50,000 in number. However, this does not mean that you add irrelevant people in the list as well. For example, if you have a huge email list, then instead of including just everybody in the source audience, what you can do is, remove some people who do not seem necessary. Say, remove those people who have been on the list for less than 3 months duration or alternatively include only those people that have opened at least one of your emails recently or have even clicked on a link within the email.
Unless you use a pixel as your source audience, people in your source audience will be excluded from your Look Alike Audience. However, it is quite easy to exclude the source audience in an ad set. Hence, to be sure that you separate your warm audience from your cold audience look-alike, you must always exclude the source audience while creating the ad set.
#Did you Know?
Now, some of you might be curious that once Facebook has been given a source audience, then how does it decide who matches this audience and who does not! Though there is no definite answer to this, but from the patter notice, the signals that Facebook is likely to use include factors like user behavior on Facebook as well as in other activity groups, user interests, pages likes, ads clicked on, pixel data, profile data such as gender, age and location, and so on.
Since the Facebook pixel is present on a number of websites, there is an endless amount of data consisting of who signed up as a lead, how much they spend and who purchases. Somehow if this data is combined with the comments, shares, likes and viewed videos on Facebook and demographic data, then one can estimate the formula Facebook uses.
Conclusion:
Originally, creating cold audiences was more time consuming and lengthy process taking a lot of research work to find users with the right combination of interests, age, locations, gender, and other demographics. But now the process has been simplified down greatly as now we can get better results by using Look Alike Audiences which takes minimal time to create and also has the advantage of updating dynamically.
Though there may be some drawbacks of Look-Alike Audiences as well tremendous results have been seen in most of the circumstances. However, the results may vary from one business to another. Hence, it is better that you before choosing any one type you test both the approaches and then discover the one that works best for you!