Running a business in itself is a really daunting task despite you possessing fantastic business skills and when you are running an e-commerce business, then the task becomes all the more difficult, after all, you need to keep constant checks of high SEO rankings as well as lower rates of cart abandonment. However, you need not worry because we have prepared the perfect guide for you to under the above concept.
What is Cart Abandonment?
If you have opened a physical business place as in a shop then you can easily keep an eye on your customers so that no one goes without buying anything but when you have an e-commerce business then it is a bit difficult. It may happen that you have a nice website, high SEO rankings, a great landing page, a good business strategy, and wonderful products which are loved by your target audience but still, sometimes customers may add products in the basket and then leave your website abandoning the filled cart, thus without buying anything. Cart abandonment is in every term the most frustrating and disappointing experience for e-commerce.

We understand that it is extremely frustrating to go through all the trouble of taking a customer as close to shopping as to adding product in the cart but then eventually losing them out on the sales. Though you can't force your customer to buy a product from your page you can surely influence to buy your products and thus improve your e-commerce experience as well as boost up your sales rate.
Tips to Solve Cart Abandonment:
So after we have actually understood, what card abandonment really is. And how it can adversely impact your revenue streams. Not implementing strategies and practices to reduce it, is leaving money on the table. So, here are some easy and simple tips which can help you avoid cart abandonment and boost sales.
Add Progress Indicator on Checkout Pages:
Whether it is about standing in a long line at the bill counter and answering some persistent questions of the cashier or a long transaction process on an e-commerce platform, both are equally irritating and annoying for the customer. Hence, if you want to keep your customers happy, want them to make transactions and return frequently at your platform, then you need to keep your transaction page possibly, short and precise. Making the customers realize that by doing the transaction on your page they are not in for long and prolong checkout procedures will make them get attracted to your page. You can do by including a progress indicator on your checkout pages.

A progress indicator will make the customers realize that there are few specific steps, after filling out which they are free to go back and resume the activity they have been doing earlier. By eliminating the potential worry of customers that you are going to keep them blocked for long, in a way you reassure them that they are almost done. Not only adding a progress indicator eliminator ambiguity but also makes the process easier and clearer for the users to understand.
An indication of their current status also gains you your customer's trust. Also, always remember that an ideal progress indicator should consist of the fewest steps possible because if you add more steps on the progress indicator it will make the customer think that they need to do a lot of work to make a transaction and hence they usually return. You can combine some two relevant steps together on a single page to reduce the steps. Straight-forward, precise, clear to understand and smooth, such should be your checkout process.
Make Use of Exit Intent Pop-ups:
If you have never heard of exit intent pop-ups then, surely you have missed out on one of the most effective tools for high conversion rates. You can install exit intent pop-ups on any page, it would be better if you add them on the checkout or shopping cart pages. Now, you may ask that how do exit intent pop-ups work? They are very simple, an exit intent pop up detects when a potential customer is about to leave the page without buying anything or after abandoning the cart, and then they send a pop up message on the customer's screen encouraging them to stay and buy the product from your platform by enticing them with some great discounts, deals, offers or by providing them with some beneficial information related to the product.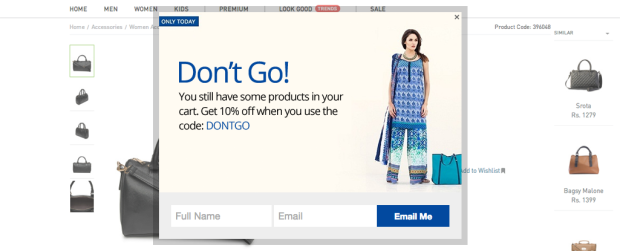 For example, when a customer is about to leave your page, you can display pop up message like, get free shipping, 50% discount or buy 1 get 1 free scheme if you buy the product now! Creating urgent situations like these with exceptional discounts attract customers. Say, if by chance the customer is busy or distracted at the moment and doesn't accepts your offer then, thus leaving your page, then don't lose hope because you still have one option left. You can still pursue your customer to complete their purchase by sending them reminder e-mail alerts.
Keep Any Surprise Costs to Minimum:
We understand that it is not possible to provide free shipping or great discounts and deals all the times because if you keep your profit margins to a minimum always, then what will remain the point of running a business. But if seen from the customers point of view, they add products in the cart thinking about their budget or their displayed costs, but when on the final transaction page you suddenly drop a bomb on the customers that you will charge some specific shipping fee, taxes or packaging charges and so on, they get a bit disappointed and annoyed. Such a situation usually ends with customers abandoning carts and leaving the page without buying anything.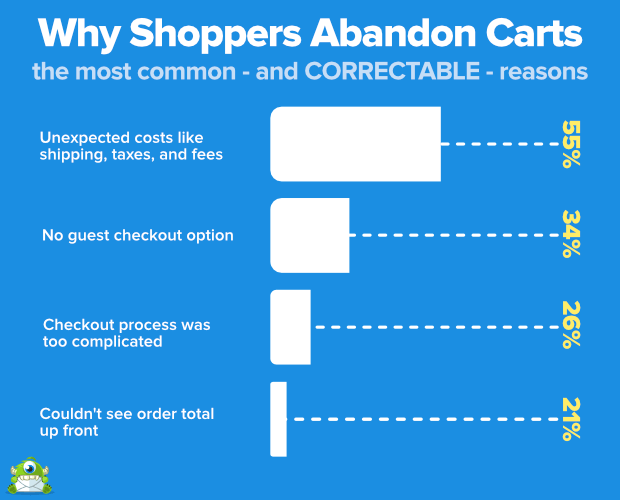 To prevent this from happening, you need to understand that in most circumstances' customers don't have a problem paying the reasonable extra charges, rather what annoys them is that those extra charges are suddenly thrown upon them. So, for eliminating this problem, make sure that you keep the surprise costs element to the minimum.
The solution is simple, you have to need to ensure that all kind of additional costs whether taxes, shipping fee, packaging charges or any other charges related with a product or order are displayed prior to they added to the cart. In some cases where the additional costs are variable like, shipping fee then, you can add a button on your product pages that will calculate the estimated extra costs for your users before they add the product in the shopping cart.
Include Thumbnail Image of the Product on the Purchase Pages:
Sometimes while buying people tend to add in all those products which they like in the cart and think that they will shortlist the best out of the lot later easily. In such circumstance, it often happens that while selecting they may remember the product appearance, but after going through multiple products the customer might forget what did the initial products that they added looked like. Forgetting about the appearance of the product makes the customer even more frustrated with themselves and going to back to the product page of each and every item is a tedious task.
So, to prevent your customer from being unhappy and then leaving your site empty-handed, it is better to give them the same experience of seeing the products they have selected like they have while shopping physically in an actual store.
A simple grounding trick which comes handy in such circumstances is displaying a thumbnail size image of the product along with its name and price when it has been added in the cart. This will prove to be very much beneficial for your customer as well as you because now the customer is reassured of the product that they are being, there are fewer chances of the customer getting distracted or hesitated while buying and the problem of the buyer forgetting what they added in the cart being completely eliminated.
Always remember that the golden rule for boosting conversion rates in an e-commerce business is to make the process of buying and completing a transaction for the customer as much easy and friction-free as possible. Hence, your checkout page should be simple, clear, easy to reach, attractive and precise.
Cart Should Be Visible Always:
As earlier said, it often happens that customers add on all the products that they like in the cart so that they can easily shortlist the best ones out of the lot later easily. However, the problem that might arise for you is that if the customer gets distracted while selecting products and forgets about the cart and the items, then eventually that will result in an abandoned basket for you. So, to prevent such a situation from arising you have to make sure that the customer is always reminded about the items they have added in the cart.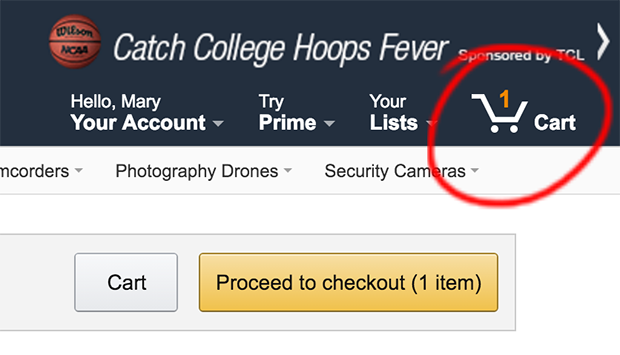 Now, clearly leaving them a message every few minutes is not only going to be an irritating experience for the customer but also a tedious task for you. So, another alternative to keep the customers reminded and updated about the items in the cart always without irritating them is simply to make sure that a cart icon is displayed on the screen always.
You can be innovative with the cart icon by trying out different things. For example, you can try adding additional techniques like the cart icon expanding when a customer clicks over it or the cart icon also highlighting the number of products added in the basket and so on. All of these will help your customer to complete their purchase without any hurdles.
Ensure an Easy Navigation between Cart and Store:
Shopping is never linear or streamlined process rather it is too wavy and curvy as it includes a lot of going haywire, going to next option, coming back to the first option, etc. There is various kind of customers that you need to take care of to ensure high conversion rates. Some of your potential customers may be highly indecisive or too choosy or not easily satisfied. Hence, such kind of customers tend to view a product, hundreds of time before actually buying it, re-reading about its description, reviewing the product images from different angles, re-evaluating their worth and so on.
Therefore, in such cases despite your adding a thumbnail image along the product name and cost does not help the customer and they tend to go back to the actual store or the product page again and again. When it takes a lot of time to go to and fro from the product page to the cart and vice versa, the customer can get agitated and hence leave the website dissatisfied.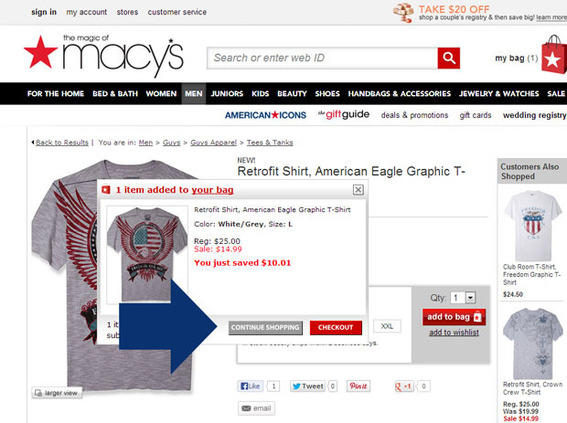 To prevent this from happening, make sure that you make the navigation process between the cart and store page effortless for the customers. All you have to do is to make sure that you provide your customer with easy navigation options to move around in your website doing their desired tasks like adding a product in the cart, saving their progress, going back to shopping more and coming back to cart to shortlist, etc. Always, remember that a happy customer is an asset to your business. So, the easier you make it for your customer to move between product page and cart, the happier they would be.
Conclusion:
Whether you are already an e-commerce retailer or are interested in becoming one, then we hope that these few tips and tricks would help you achieve your goal of higher conversion rates and lower abandoned carts. Whether you opt for simpler tips of reducing the load time of your page, adding multiple payment options, offer attractive discounts or go with some serious changes like including thumbnail images of product in cart, adding Call to Action buttons, employing exit-intent popups, providing easy navigation between cart and store, always remember that if you do the efforts with proper determination, there is nothing that can stop you from being successful in future!