Marketing is more than just a word and we hear it almost every day. It is all about promoting a business or a product to the target audience. It is the way through which the producers or the businessmen meet their customers and find ways to satisfy their needs through their services and products. Digital marketing, advertisements on televisions, making a poster and there is a lot more.
Content marketing is also a type of marketing that has proven to be very successful in lead generation and sales and thus, has become more popular and is used by many brands and industries for marketing their product or services. This works well when you want to convey some information to the readers or viewers of the content. This article will take you through the basics of content marketing and why it is important to invest some time on content marketing as a brand.

Content Marketing as a brand- What it is all about:
Content marketing is all about information. As a brand, you give the target audience valuable information to help the customers take a good decision, which can be to avail your services, buy your product and so on. It is a way of marketing in which you do not force a sales pitch but still drive the audience towards the course of action which can be favourable to you. The content must be very dynamic. It is important to come up with a very creative and attractive way to keep the content simple, understandable and valuable. The main aim of content marketing is to:
Convince and gain the trust of the target audience

Get a lot of new customers while retaining the old ones
It is proved that of all the inbound marketing methods and strategies, content marketing is the type which helps an organisation, goods or services, gain trust from the target audience or the customers.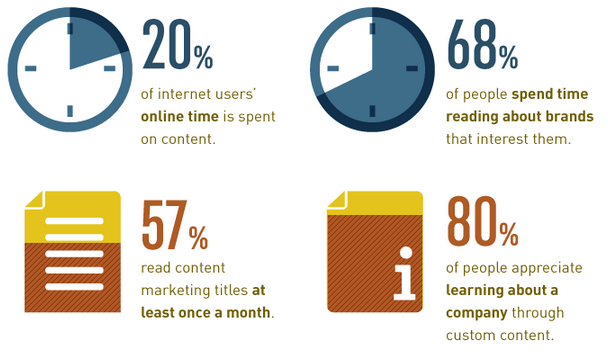 Putting all this together, the content marketing institute defines content marketing as 'Strategic marketing approach focussed on creating and distributing valuable, relevant and consistent content to attract and retain a clearly defined audience- and ultimately to drive profitable customer action'.
There are a lot of things that come under content marketing. It involves Email marketing, social media marketing, infographics, blogging, case studies and a lot more. Anything you do for marketing requires content. Hence, this is the best way for branding and letting people know about your brand properly.
Starting with content marketing:
Define the goal and plan accordingly

Work and create the content

Promote on the perfect platform to be able to reach the right audience

Research the results
Plan your content strategy: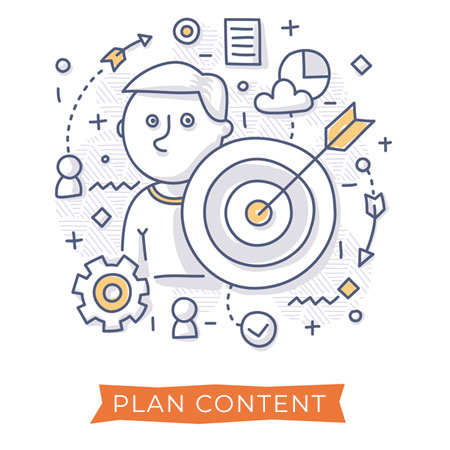 It is not just about producing the content and putting it on all the possible platforms to get the reach you are expecting. You need to brainstorm ideas and then work on making the content. You need to first find out who your target audience is. You need to have or set a goal and make sure the content can help you reach your goal. Planning, here, is all about thinking and making sure the customers are driven towards doing what you need them to do.
Work on how you can grab their attention. Remember they need to stay engaged until they are done reading or viewing the entire content.
Analyse the demographics and understand the target. Think of ways to connect to them properly. Put yourself in the shoes of the target and think what your reaction will be to the content. Give them an emotional connect.
Think of how you can implement SEO in the content. Use the perfect keywords. Analyse the most searched words of your target group and work accordingly. Talk about your brand and how great it will be for the audience to try and buy or use your brand. Convince them but do not force them. Also, remember that your competitors are also present online. Think of unique and creative ways to attract and engage the readers. Staying ahead of the competitors is very important for success.
The content must have a very clear purpose and make questions for yourself and answer them clearly. The questions that should be asked are:
Will this article be useful or help someone get what they need?

What will be the reaction of the customer?

Will the reaction make it a point to help you reach the goal you set?

Why should people or your target audience read or look at your content? What exactly is the purpose?

Will this resolve some issue that someone has?

Why is the content worth posting?

What makes this content good to read and unique?
Think of creative and unique ways to make contents which have all of the above traits and characteristics. Make sure it will generate good traffic for your brand or the website. You can also use videos and infographics to make the content more attractive. Adding case studies is also a good option. Sticking to content is also fine but adding these can make it more attractive for the viewers or the readers.
Work and produce the content:
Once you plan the content, you need to produce it. It is fine to take enough time to work on it. It needs to be perfect and must have no discrepancies. The content should be a very good quality. The content must concentrate more on customer benefits than on the promotion of the brand. This will attract customers as they usually look for the benefits. It is also good to add backlinks. Use the keywords properly. Don't use the keyword for the sake of using them. Make sure it blends with the content.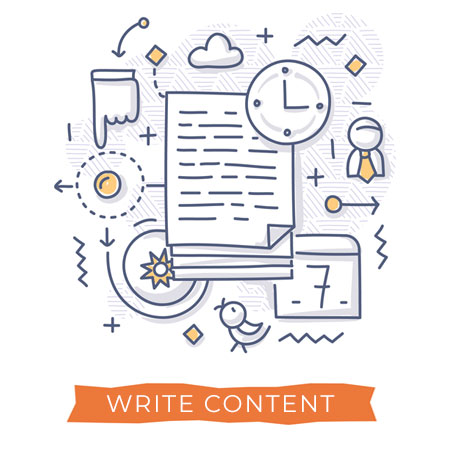 The next very important thing to look for is the grammar. Most people are not very good at the language. Only if the content is made in proper English, the audience will read it fully otherwise, they will stop reading it and usually, they do not come back. That is why it is better to work as a team. Never forget to proofread the content many times. Edit it properly. Read it as many times as you can before posting it. The final content must be error-free and must have the best quality.
Promote: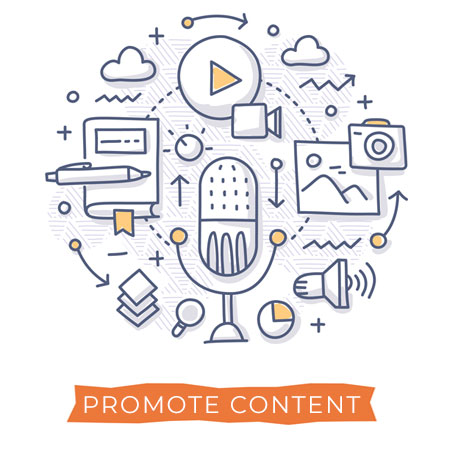 Promoting the content does not mean posting it on social media. There are a number of things to do before deciding on what platform to use. The platform you use depends on the target audience. You can't just post the content on a page and wait for the target to view it. It should be put in a place where it is easy to grab the attention of your target. This is how you get more traffic on your website or the content.
It is also good to spend some money on promoting the content. This is called paid promotion. It is available on almost all the social media apps and even on search engines. On search engines, paid promotion is termed as PPC or paid per click. With this, you pay the search engine according to the number of clicks or visits you get on your website or blog.
Just key in the right platform and work accordingly. Social media is a very common place for content promotion. You can also use blogs. Use a place where it is possible to retain customers and get a lot of new ones.
Research the results and work accordingly: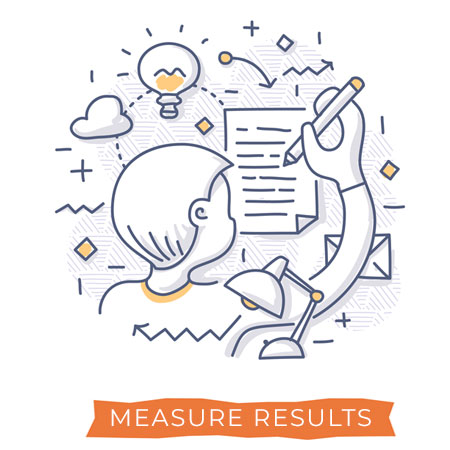 Once the content is posted, you need to analyse the result. It is important to check how many people read it and how many people react to it. You need to know how much your brand has reached out to the target audience and how well the content has worked. Some readers or viewers may also comment. Read it through and act accordingly. Use all this research in producing your next content. This research can help you make the next content more attractive and engaging, hence helping you get more customers or readers.
This is the cycle of how the brand must work on content marketing.
But why spend so much time on content marketing?
While there are a number of ways to create and market a brand, why should one invest in content marketing? Now that we know the what and the how it is now time to answer the question why.
(https://as2.ftcdn.net/jpg/01/08/24/47/500_F_108244704_YpGmexVbTm8cA0hAijSDeOlIdcAnmHfA.jpg )
Inbound marketing is developing marketing tactics to attract or pull people into your site or page. It can be said that content marketing is a subset of inbound marketing. Inbound marketing covers all aspects of digital marketing. Content marketing perfectly focuses on the target audience and works on convincing and engaging them and making them buy or use your products or services. It is the most important part of inbound marketing as it generates more traffic to your website with very less money involved and it is easier compared to other marketing methods.
Content marketing can keep the customer well informed. It can demonstrate how exactly your brand started and how you are moving towards success. This can help you connect to the audience effectively and in an emotional way. It is important for the customer to know the details and all the information about the brand they concentrate on. It is also very easy to get visible to the users using content marketing.
You can implement SEO in your content and hence, the customers who search for related keywords will end up landing in your page. SEO needs content. Perfect content with the perfect keyword can get more viewers to land on your page. These viewers can turn into potential customers if the content on your page is perfect and engaging.
Content marketing can very easily improve customer relation and easily land into your customer's thoughts. Posting an attractive content on Facebook is literally free and you can still get a lot of leads. Also, replying to the comments on the post can help you stay in touch with the customers.
This is the best way to build brand awareness. Not everybody who falls under your target knows you well but content marketing helps you reach out to all the target audience and hence you have a chance of getting more customers. It is easier to generate quality traffic and also to convert the traffic into sales and ultimately into profit.
It is not only easy to get new leads but also to build trust with the existing customers. When you create informative and attractive contents, it becomes clear for the target audience and the customers that you are legit and got authority in the field. Hence, they can trust you and start buying products or services from you.
A good content marketing is proof of expertise. Your content and its quality can very easily prove to the customer that you actually know what you are doing and you are moving towards becoming an expert in the field. If you plan on B2B marketing, then the first thing the businesses will do will be to read your blog to know where you stand in the market. Content marketing is the best way to connect with your audience and stay connected.
Another good thing is that the customers or followers can share the content you have posted. This increases visibility and hence you will have more leads.
This can also save time in the sense that you need not keep creating new content every now and then. Some contents may just not be useful after some time but some contents like guides and story of the business don't just wear out. These are called evergreen content as they never get irrelevant and can be used anytime. Such contents can just be recreated.
Final words:
Among all the inbound marketing and digital marketing strategies, content marketing is the one that is easy but can help you get a lot of customers as you retain the old ones. It can also help you get more traffic and more sales. All you need to do is brainstorm the perfect method and the platform, analyse and work on improving it. It requires lesser time but creates good value for the brand. Hence, it is important to invest some time on content marketing for your brand.